A new Facebook hoax is circulating and it suggests that Facebook is going to charge you to keep your posts private unless you post an informational message. Is it real or is it a hoax?
Although the message seems to be from a creditable resource, and you may have seen your friends posting it, Facebook is not going to charge £5.99 to keep your posts private. There is, however, a way to keep your Facebook posts private and we will tell you how in this message. Best of all, it won't cost you a dime!
The message that is circulating says the following:
"Now it's official! It has been published in the media. Facebook has just released the entry price: £5.99 to keep the subscription of your status to be set to "private". If you paste this message on your page, it will be offered free (I said paste not share) if not tomorrow, all your posts can become public. Even the messages that have been deleted or the photos not allowed. After all, it does not cost anything for a simple copy and paste."
This rumor is nothing new. In fact, it showed up on Facebook in 2013 and since that time, it has been circulating off and on. The fact of the matter is, you will not see Facebook charging money for accounts, because they don't want to alienate their users.
Since it got its start, it has been joined by a number of other messages. For example, the following has circulated multiple times on Facebook as well:
It's official. Signed at 10:33. It's even passed on TV. Facebook will start charging this summer. If you copy this to your wall your icon will turn blue and your Facebook will be free for you. Please pass this message, if not your icon will be deleted. P.S. this is serious, the icon will turn blue. (Copy and Paste to your wall.)
And who could forget this one?
"Oh Dear Some PEOPLE COULD BE IN TROUBLE Everything you've ever posted becomes public from tomorrow. Even messages that have been deleted or the photos not allowed. It costs nothing for a simple copy and paste, better safe than sorry. Channel 13 News talked about the change in Facebook's privacy policy. I do not give Facebook or any entities associated with Facebook permission to use my pictures, information, messages or posts, both past and future. With this statement, I give notice to Facebook it is strictly forbidden to disclose, copy, distribute, or take any other action against me based on this profile and/or its contents. The content of this profile is private and confidential information. The violation of privacy can be punished by law (UCC 1-308- 1 1 308-103 and the Rome Statute). NOTE: Facebook is now a public entity. All members must post a note like this. If you prefer, you can copy and paste this version. If you do not publish a statement at least once it will be tactically allowing the use of your photos, as well as the information contained in the profile status updates. DO NOT SHARE. Copy and paste to be on the safe side."
If you really stop to think about it, the notion that copying and pasting the message would protect you from being charged is ridiculous in and of itself. That isn't even to mention the fact that Facebook would land themselves in a lot of hot water if it opened up private data for everyone to see.
If you do want to keep your Facebook posts private, don't share the hoax message. It does nothing but keep the rumor alive. Instead, you can use the following steps to keep your Facebook profile and posts private.
How to Keep Your Posts Private on Facebook
Step 1: There is a downward facing triangle at the top right corner of the Facebook page. Click on the triangle and choose settings. If you are on a tablet or phone, look for three horizontal lines in the upper right corner, click them and choose Account Settings.
Step 2: Tap or click on the privacy settings tab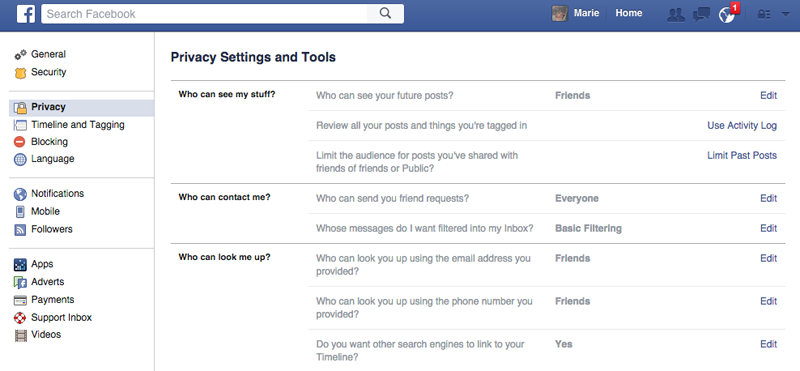 Step 3: Under 'Who can see your future posts' select Friends.
Step 4: If you're worried that previous posts may have been open to a wider audience, also select 'Limit the audience for posts you've shared with friends of friends or Public' and choose 'Limit old posts'.
How Does Your Facebook Profile Look to Other People?
If you want to see how your Facebook privacy settings work out, the easiest way to do so is to view your profile through random people who are not your Facebook friends.
Open your profile page in Facebook and click on the three dots below your cover photo. Click "View As." This shows you your profile as it is viewed through the public eye. You can use the selector at the top of the page to view your profile as a certain person.
Via: PC Advisor
Be sure to share this with your friends on Facebook