Many of us enjoy gardening but we may not have enough room to plant a large garden outdoors. Fortunately, it is not necessary to do so, and when you see how to make these miniature gardens for inside of the house, you will absolutely love it.
They are commonly referred to as terrariums, and they are basically a miniature garden that is grown inside of a container. They are perfect for the homeowner that either doesn't have the time or space to grow a bigger garden outdoors. Best of all, they can make your house feel cozy and warm.
At first glance, it may seem a little tricky to create such a miniature garden but it really just takes some patience and creativity. Simply follow these instructions and before you know it, you will be enjoying your own miniature terrarium at home.
Choose your glass container
You need a glass container that will be able to accommodate the roots of the plant. You can use an old glass bowl or by one that is specifically for this purpose. If it has been used before, be sure you wash it thoroughly before using it as a terrarium.
Here are some options for containers:
aquariums
vases
kettles
tureens
lampshades
wineglasses
glass bottles
chemistry flasks
Wardian cases of different shapes
Choose Your Plants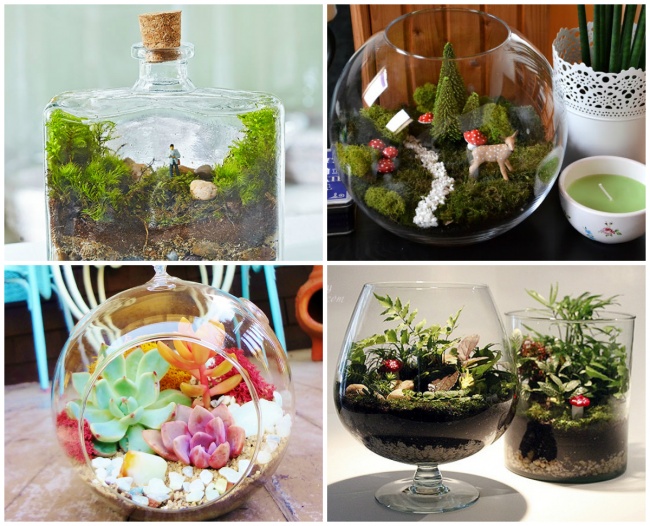 The beauty of this project is that almost any type of plant can be used. It is better, however, if you use plants with similar characteristics and that work well with each other. Some of the more common options include moss, ferns, cacti and succulents.
Great Terrarium Plants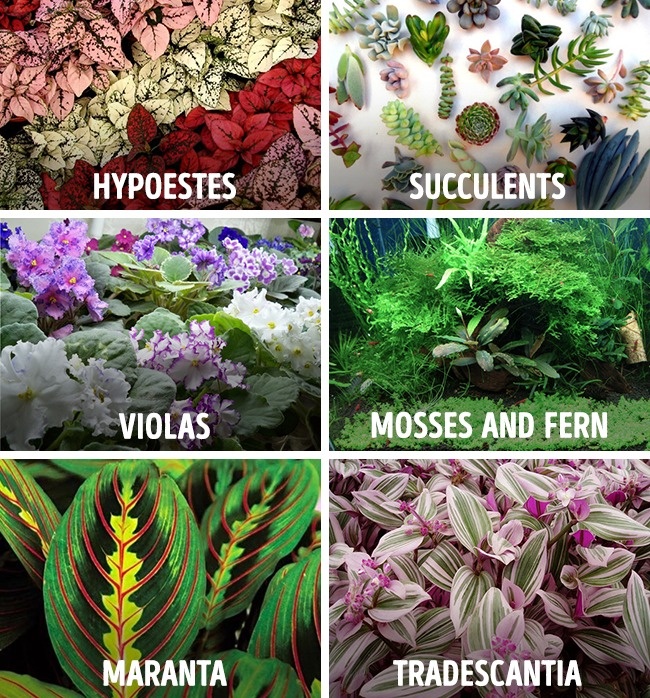 Purchase your supplies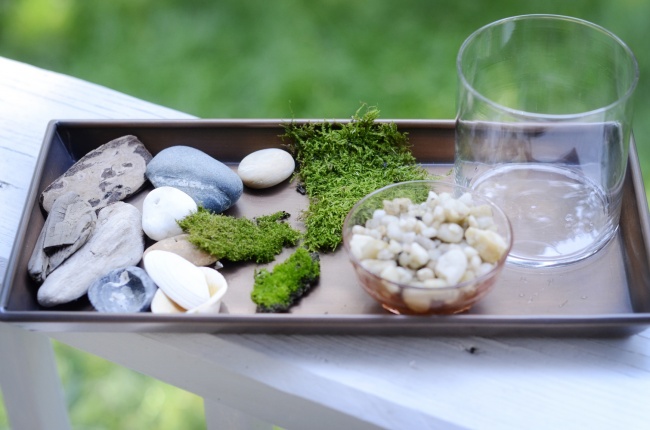 You can find anything you need for your miniature terrarium at a garden center or hardware store.
Potting soil – Choose light soil that drains easily.
Gravel or Pebbles – This will provide the drainage that is necessary. Put them at the bottom of the terrarium and it will also help to keep things neat looking when you put them on top.
Activated Charcoal – If your container does not contain drainage holes, put a small layer of charcoal on the bottom.
Sheet Moss – It will work like a sponge when placed on the bottom of the terrarium
Tools – These would include gloves, planting tools and a watering can.
Decorations – Let your imagination go wild
Planting the Terrarium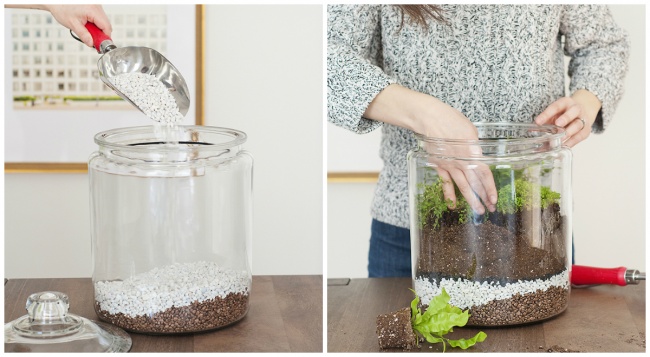 Clean the Container – Wash the container thoroughly, particularly if it was used.
Drainage – Mix activated charcoal with the pebbles and pour them as a layer on the bottom of the container.
Moss – A layer of sheet Moss will keep the excess water from filtering into the gravel
Soil – You will probably need up to 8 cm of soil. Gently tamp it to remove air pockets and to smooth the surface. Dig holes for the plants.
Plants – Remove the plant from the container, shake the excess soil from the roots and transfer it into the hole you made in the terrarium.
Decoration – Anything can be used as decoration, including stones, shells and figurines.
Moisture – Water the terrarium lightly
Maintenance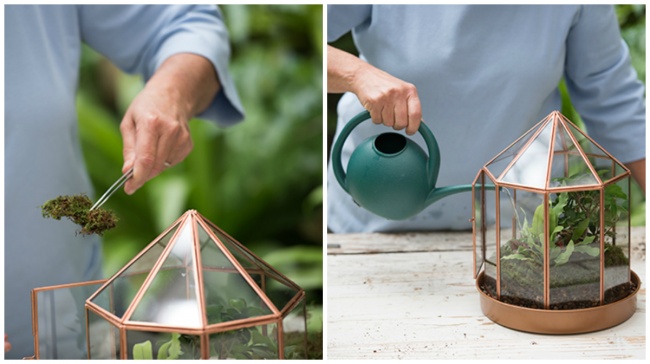 Watering – If you are using an open terrarium, occasionally water the plants. Airtight terrariums do need watering but if you are using one that is open air, water them once a week. Don't overdo it.
Healthy – If you see any sick plants, mold or weeds, remove them immediately. You can also prune wilting or dead parts of the plant.
Air – If the terrarium is airtight, occasionally open it to allow fresh air inside.
Via: Bright Side
Make sure you share this project with your friends on Facebook