There is nothing quite like the feeling of going on holiday. It is nice to be able to get away from it all, and we may wait all year for that week to roll around when we can enjoy some time to ourselves. Unfortunately, we also have to pack if we plan on going anywhere.
If you are getting ready to pack for holiday, you can reduce your stress by following these packing tips. You will be able to fit more in a smaller space and do so in a smarter way.
1. Roll your clothing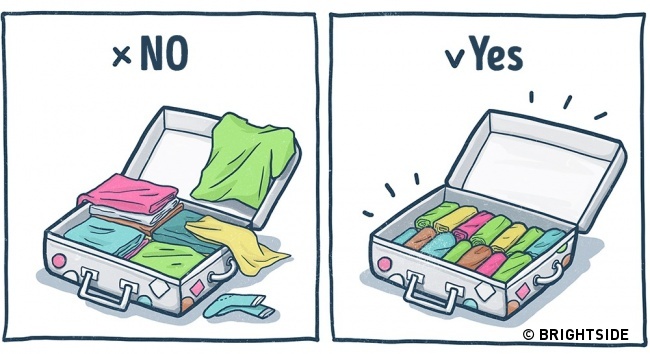 If you want to save space, don't stack clothes, roll them in tight rolls. You can then stack them on top of each other and fit much more into the available space.
2. Use vacuum bags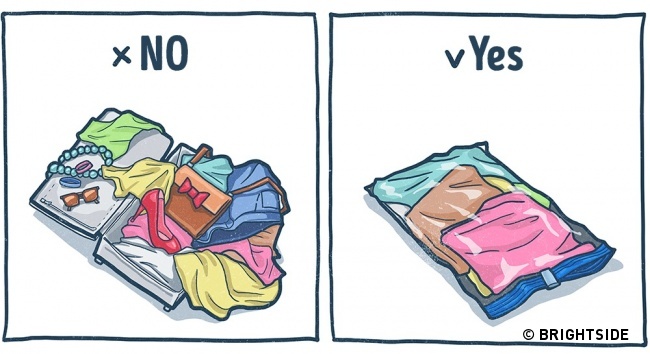 Vacuum compression bags can really make a difference in fitting some of the bulkier items in your suitcase. You can put many items in them, including jackets, soft toys, children's clothes and bed linens.
3. The pyramid principle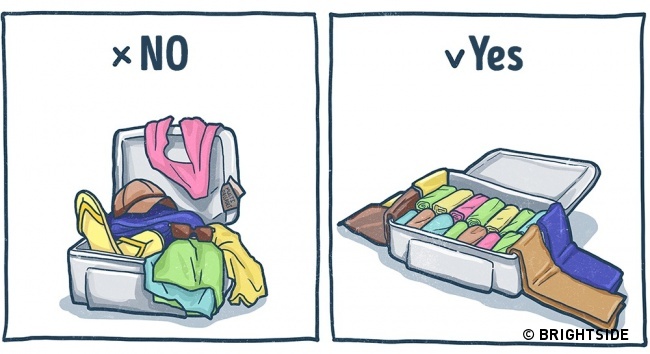 Arrange your shoes along the suitcase wall and then pack large clothing on the bottom. Lay them flat and spread out on the bottom of the suitcase so that you can wrap them around the rest of your items. Roll up clothes to form the middle of the pyramid and then roll up and pack the lighter and more easily creased items. You can pack cosmetics, documents and accessories on top.
4. No umbrella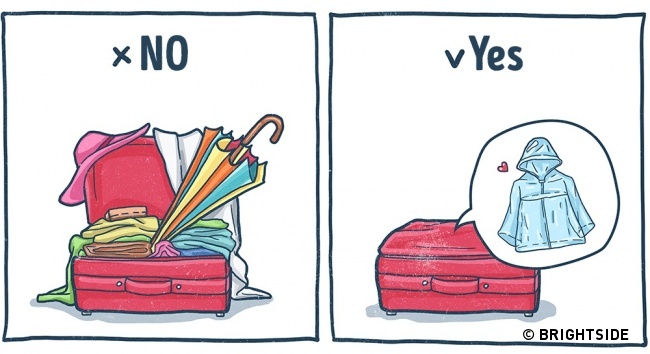 Leave your umbrella at home and pack a raincoat instead. It will take up much less space in your suitcase. You may even want to consider buying disposable raincoats before going on holiday.
5. Smaller cosmetics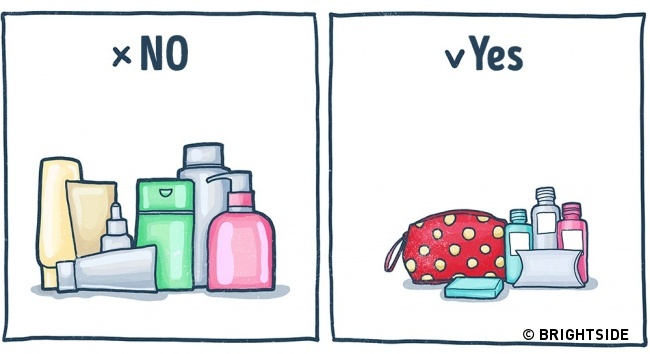 Packing your cosmetics can take a lot of room, so buy some smaller, travel size cosmetics for the trip.
6. How to pack small things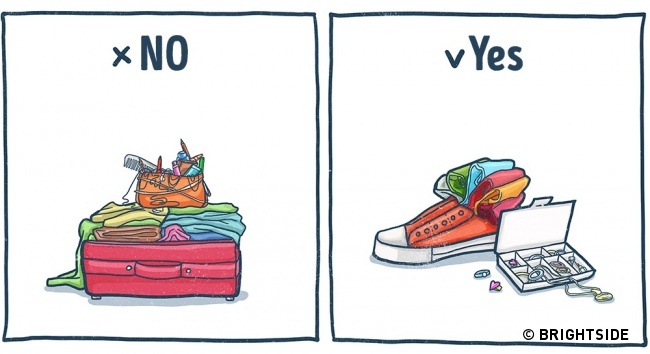 Packing smaller objects can take up a lot of room, unless you pack them properly. You can typically fit them inside cosmetic boxes, shoes, suitcase pockets and document folders. Store your jewelry in a pillbox.
7. Coat hangers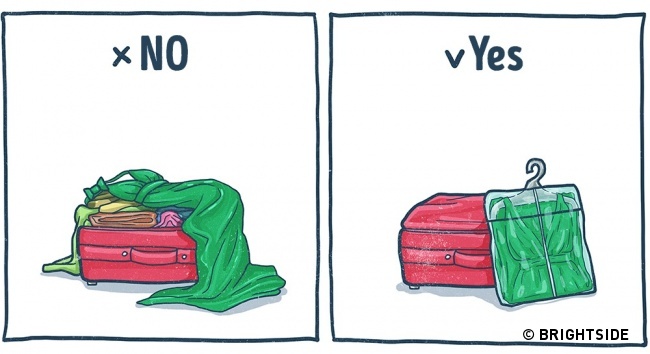 If you are transporting valuable clothing, don't roll them up in the suitcase. Put them in holdalls and save the hangar.
8. Medicine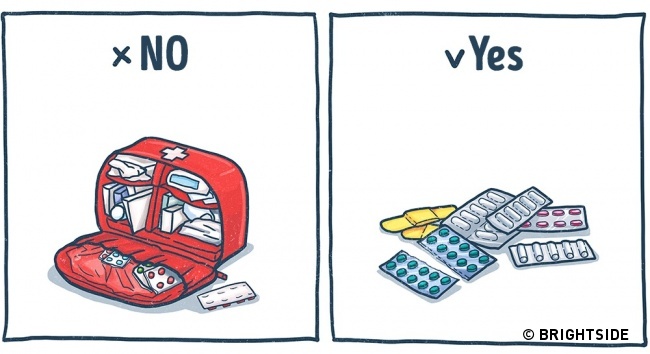 Don't try to fit all of your medicine from the medicine cabinet in the suitcase. Only pack essentials and what you will need to deal with an emergency.
9. No empty spaces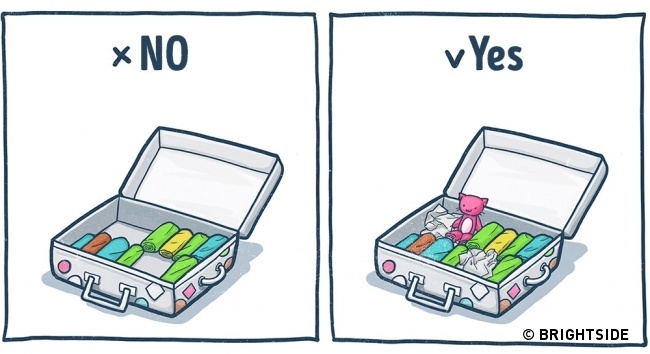 Don't leave room for souvenirs in your suitcase. You may end up with wrinkled clothing. Simply fill the empty spaces in your suitcase with clothing or wrapping paper.
10. Only useful items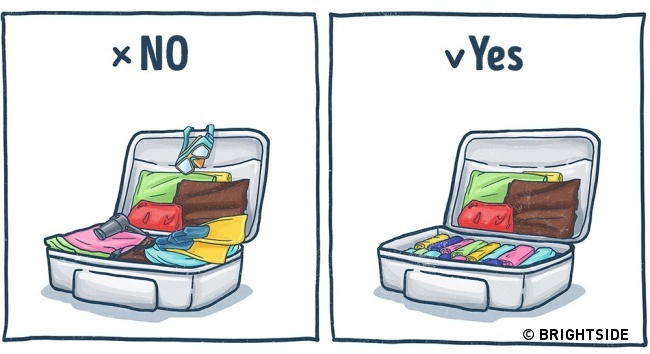 Don't take unnecessary items such as hairdryers, travel guides or camera cases. Wrap electronic gadgets in a hoodie or beach blanket. Use smartphone apps rather than paper travel guides. Most hotels will provide a hairdryer.
Make sure you consider these valuable tips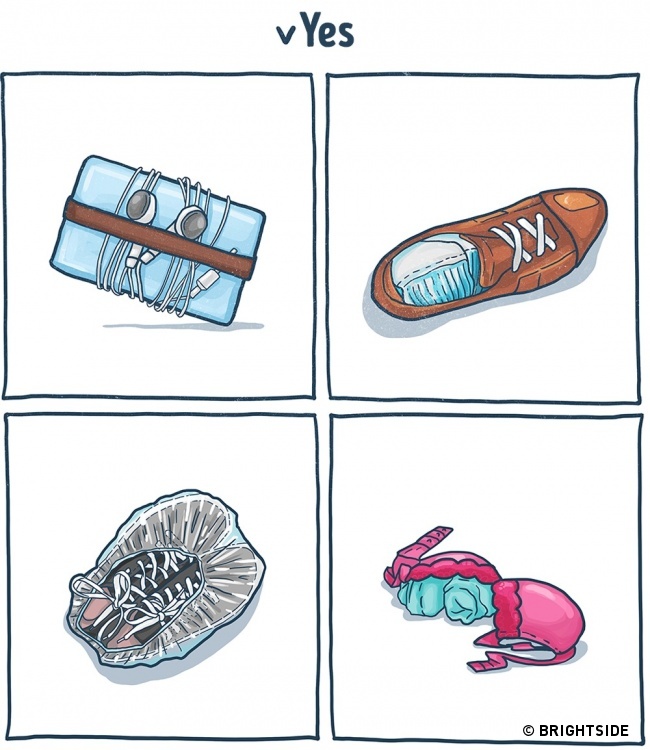 Prevent your phone charger and earphone cables from tangling by wrapping them over a small pocketbook or some similar object.
Wrapping breakable glass items in a sock and placing them inside a packed shoe will keep them safe throughout the roughest of journeys.
Prevent your packed shoes from soiling the rest of the suitcase's contents by placing each pair inside a disposable bathing cap.
Make sure that your favourite bra doesn't get crumpled during the journey by placing rolled-up socks inside its cups.
Make your shower gel and shampoo bottles spill proof by unscrewing their lids, putting some plastic wrapping over the openings, and screwing the lids back on. This way, even if the lids become loose, none of the liquid will spill onto your packed clothes.
Prevent your necklaces from getting tangled during the journey by slipping them through a cocktail straw and fastening the clasps.
Via: Bright Side
Be sure to share this with your friends on Facebook