Most of us understand the benefits of getting a good massage on a regular basis. It can help to loosen the muscles, it is very relaxing and it can help to detoxify the body. That isn't even to mention the fact that it feels good to have somebody give you a massage. We may have one on a regular basis but probably not as often as we would like, just because they can be expensive. It seems as if one dad has overcome that obstacle in a brilliant way.
The father, who is from Japan, decided that he would use his children's love of trains, imagination and play to create an opportunity to get a massage anytime he wants. If you have kids, you may be able to use a similar method to create such an opportunity for yourself. Once you have it available, you will never look back again.
A Japanese father has created a T-shirt that inspires his children to give him a back massage.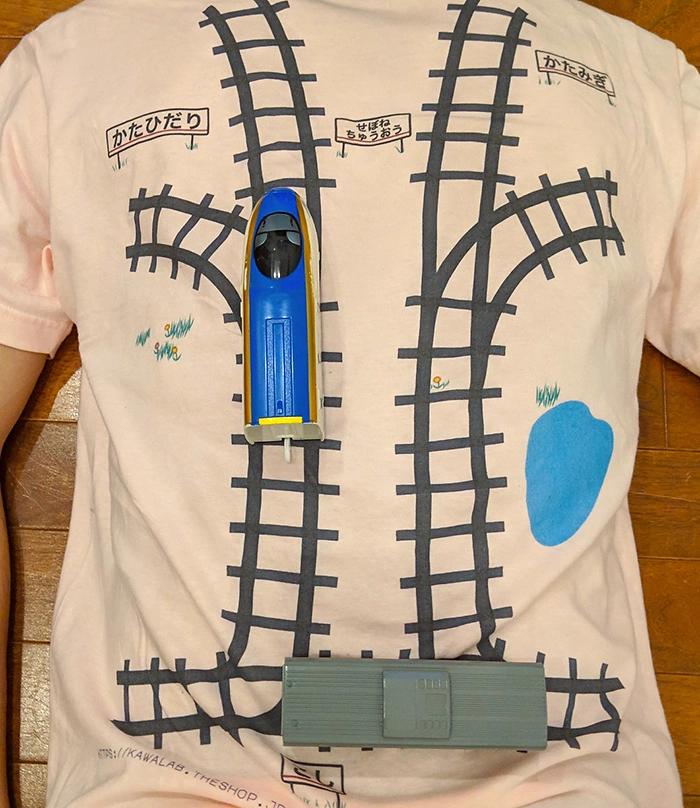 Ken Kawamoto is a software engineer for Google as well as being a father. He introduced everyone to a rather unique T-shirt design. It looks simplistic at first but when you understand the meaning behind it, it is brilliant. It is designed to inspire children to play with trains on the back of the shirt, in effect, giving a massage at the same time. He said: "I often do work on my laptop while lying down on the floor. One time, in an act of boredom, my child started playing with his toy train on my back, which surprisingly felt very refreshing since my back was really strained. I then came up with this idea to get him to run the train along the particularly massage-needy parts of my back."
There are printed train tracks on the back of the shirt.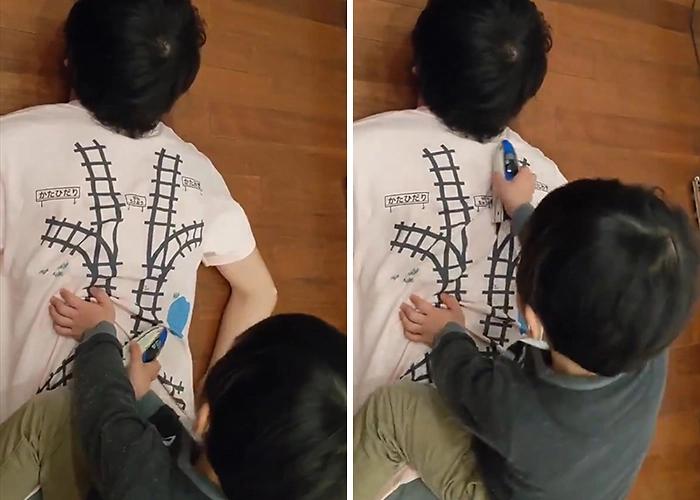 Ken's son's love trains so he thought it would work well to put the design on a t-shirt. There are even areas named "Right Shoulder," "Left Shoulder," "Spine," and "Lower Back" so they can hit the right spots. "He [the son] seems to enjoy using me as rails (and the added sense of accomplishment from giving me a back massage). He's always enjoyed using me as a toy," Ken said.
The demo video shows the kids in action and has been watched over 1 million times.
以前作った「寝転がってるだけで子供がマッサージしたくなるTシャツ」をきれいに作り直して出品した:https://t.co/o4QXllvo8h 背中にプラレール幅対応のレールが描いてあるので、子供が大喜びでプラレールを走らせてくれます。気持ちいいです。 pic.twitter.com/5wZ8poE5hJ

— Ken Kawamoto(ガリのほう) (@kenkawakenkenke) March 3, 2019
The post has also been shared over 30,000 times so you can see how much people love it. The video shows his sons playing with their trains and giving their dad a massage.
You can buy the 'massage t-shirt' online for about $22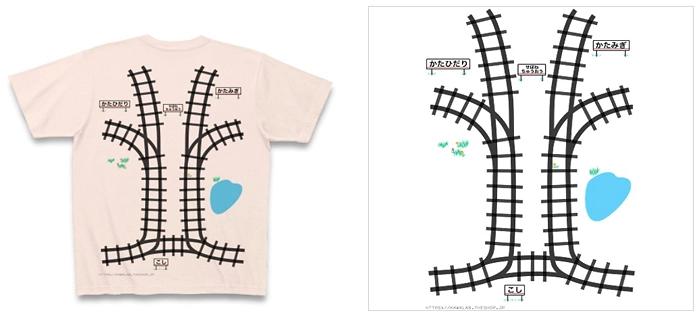 Pepole are in love with the idea:






H/T: Bored Panda